Inaya Universal Blanket - Travel Stroller
---
The Inaya Universal Blanket - Travel Stroller is designed to fit all Travel and Compact strollers. Its unique shape means it can be used from birth up to 2 years.
Livraison entre le ... et le ...
Échange sous 30 jours

Oeko-Tex
Deposited model

Design made in France
CYBER WEEK 🖤 20€ OFFERT
Chez Crocrobo Paris, nous préférons des remises raisonnables toute l'année plutôt que des soldes éphémères. Profitez de notre offre spéciale de 20€* de remise jusqu'au 03/12/23.
*Remise déjà appliquée sur le produit
Nous garantissons une livraison à domicile pour Noël pour toute commande jusqu'au 19/12/23.
- Universal Stroller Blanket in Oeko-Tex© waterproof fabric
- For use from birth to around 2 years of age
- Easily attaches to the seat of any compact travel stroller: Yoyo, Cybex, GB Pockit, Maclaren Atom...
- Cold-resistant to -4°F
- Ultra-soft fur interior
- Fully removable front panel
- 2-in-1, converts to stroller seat
- Two-way zips for easy access to bottom
• Design made in France
• Made in Poland
• Exterior: 100% Oeko-Tex water-repellent PL
• Interior: 100% PL long pile velvet fleece Oeko-Tex
• Size: H85 x L46 cm
• Vegan faux fur
• Two-way zippers
• Wash: by hand or dry cleaning
• No dryer
• Delivered in a pretty bag with satin ties
WORLDWIDE DELIVERY

For the US, delivery is free $200+
For small orders, delivery is $14.90


QUICK EXPEDITION
Tracked delivery.


HAPPY OR REFUNDED
It happens to everyone to be wrong :) You have 30 days to request the return upon receipt of the package. A link will be provided to you to download the return form.
Tableau comparatif entre le modèle pour poussette standard et le modèle pour poussette Yoyo ou compacte

| | | |
| --- | --- | --- |
| MODÈLE | Poussette standard | Poussette compacte ou Yoyo |
| Longueur | 97 cm | 85 cm |
| Largeur | 52 cm | 46 cm |
| Modèle poussette/nacelle | Toutes les poussettes et nacelles classiques du marché | Poussettes et nacelles compactes ou de voyage type : Yoyo, Cybex, GB Pockit, Maclaren Atom... |
| Age | 0 à 3 ans environ | 0 à 2 ans environ |
| Couleurs | Col fourrure beige ou noir (modèle Full Black) | Col fourrure beige |
Not disappointed!

Very happy to have ordered this footmuff, it is super soft, adapts very well to my stroller (cybex eezy s2).

Perfect !!!!

I ordered this footmuff for my 4 month old son, and as much to tell you that he is ready for all weathers. The footmuff is well padded, with good fur inside, it fits the stroller perfectly and is so cute. Really I am satisfied and satisfied with my purchase. <3

Perfect !!!!

I bought this made in France footmuff for my baby.. the quality is just the best... such a soft and thick lining... No need to dress baby a lot. The top are its double opening zips. A super cute hood and especially the footmuff is elasticated to keep warm up to the neck. In short, it's perfect... I took the gray color to match my stroller.

good croc

I find it super practical for super warm babies to face the winter.

Quality footmuff

Quality footmuff and very cozy. It keeps my baby very warm. It is very easy to install, fits on my Peg Perego book.
Too bad the website does not reveal a little more the gray chancellor. I would have preferred to have it in black, the color would have suited the stroller better. But very fast out of stock on the black one. Too bad for you…
Inaya Universal Blanket - Travel Stroller
Sale price

$249.00
Regular price
Choose options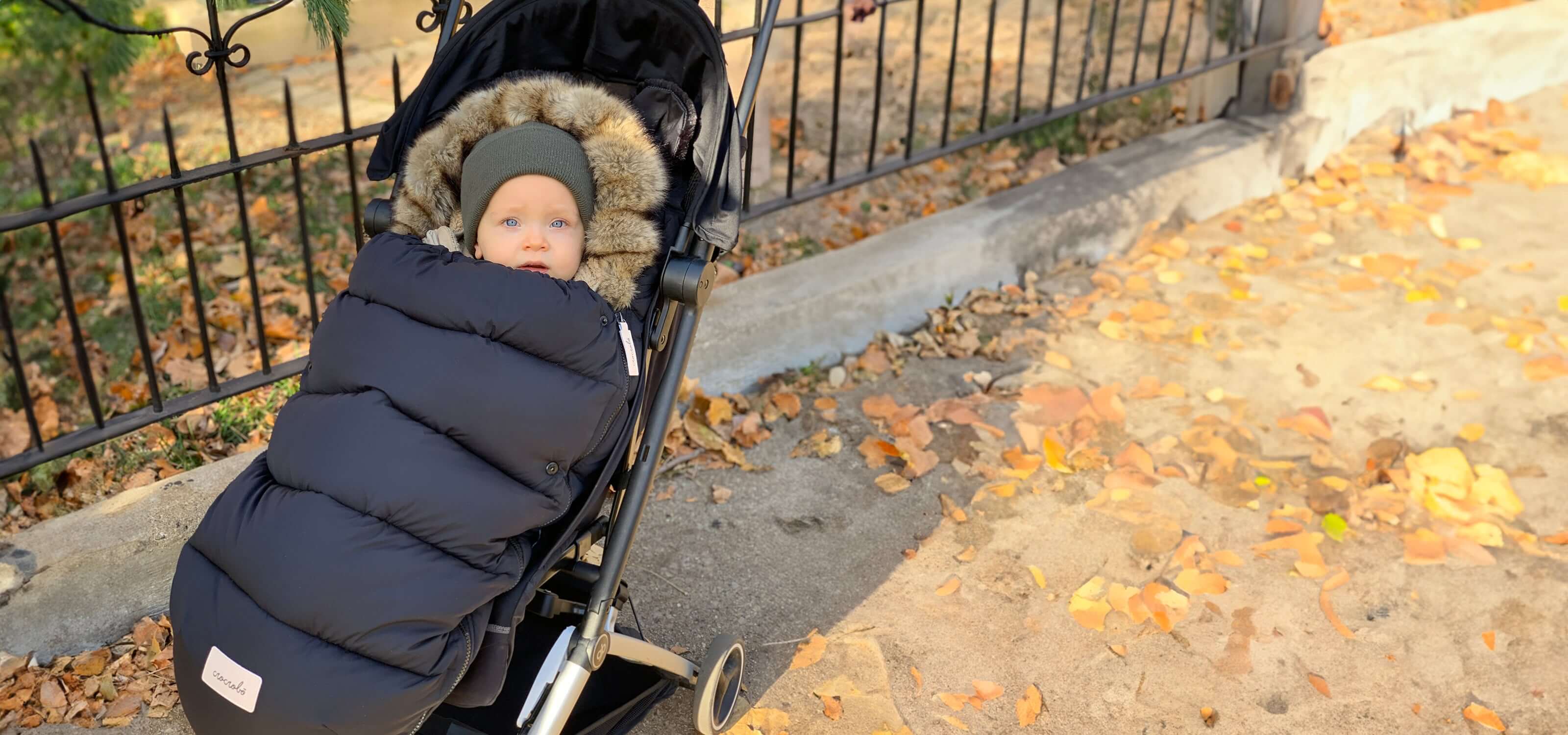 Softness and Warmth, A Cocoon for Your Baby
Immerse yourself in absolute comfort with the Crocrobo footmuff: Oeko-Tex© waterproof fabric, ultra-soft fur, removable panel, and super practical two-way zips. From birth to 3 years old, the ideal companion for your outings.


Because we don't want to sell you products that have had to go around the world to get to you. At Crocrobō Paris we have decided to favor short circuits that respect the environment. All our products are made in Europe and the design is made in France.
The Oeko-Tex© Standard 100 label is a guarantee of safety for your baby. At Crocrobō Paris, we assure you of a natural manufacture of textiles by excluding any use of chemicals in the manufacturing process.
All our collections are entirely vegan. Committed, we make our products without any animal material and rigorously select our partners according to their ethical and environmental charter.
The most efficient way to manage our resources is to bespoke, meaning we "source" all haberdashery fabrics and accessories from scratch. This allows us to keep tabs on their origins as well as how much material each piece uses in production.
We strive to create timeless designs that you can use for years to come for every child. Using top quality materials, cutting-edge methods and expert work our products have been designed to stand the test of time.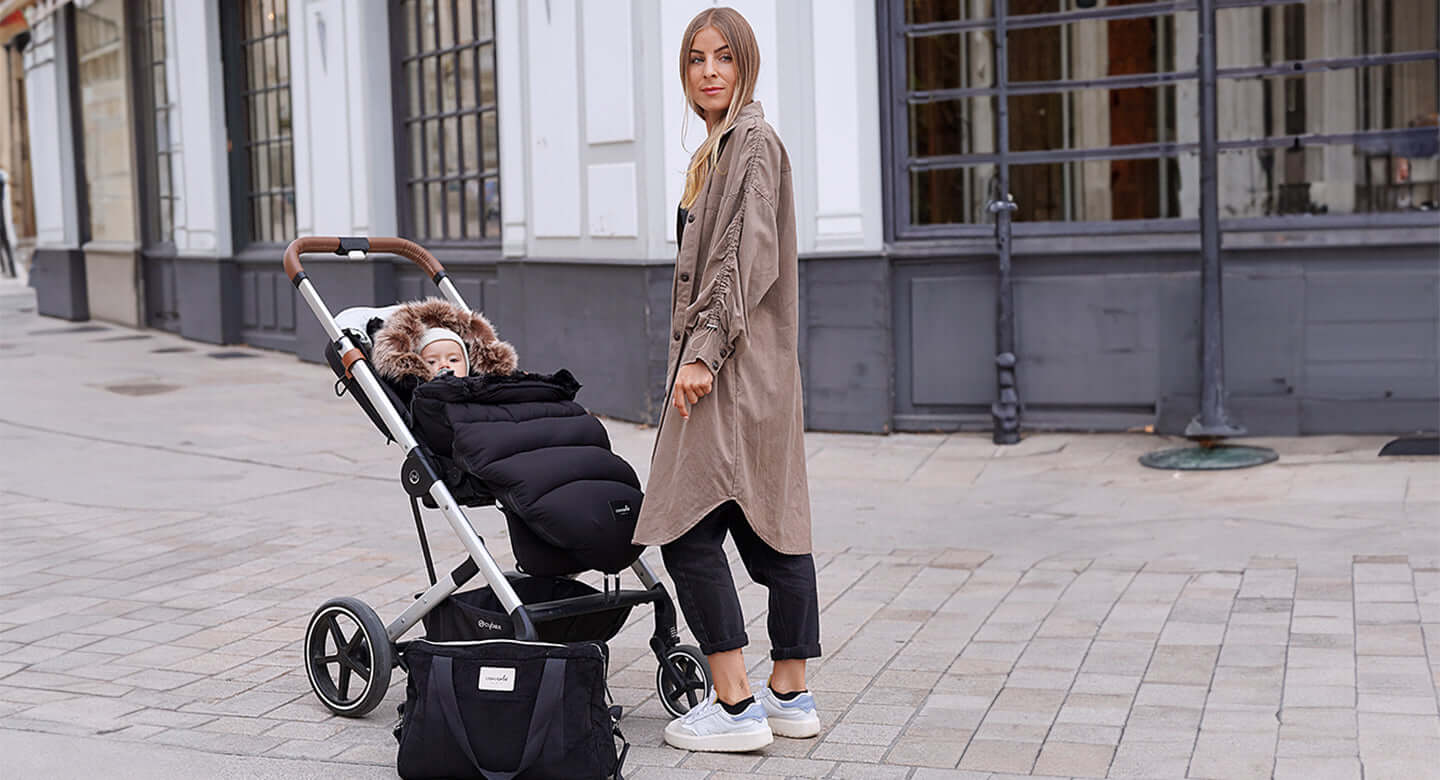 OUR CUSTOMERS ARE SATISFIED
The Inaya footmuff is rated 4.9/5 by our customers. Click the button below to read reviews.
Learn more
#CROCROBOLOVERS
OUR BABY AMBASSADORS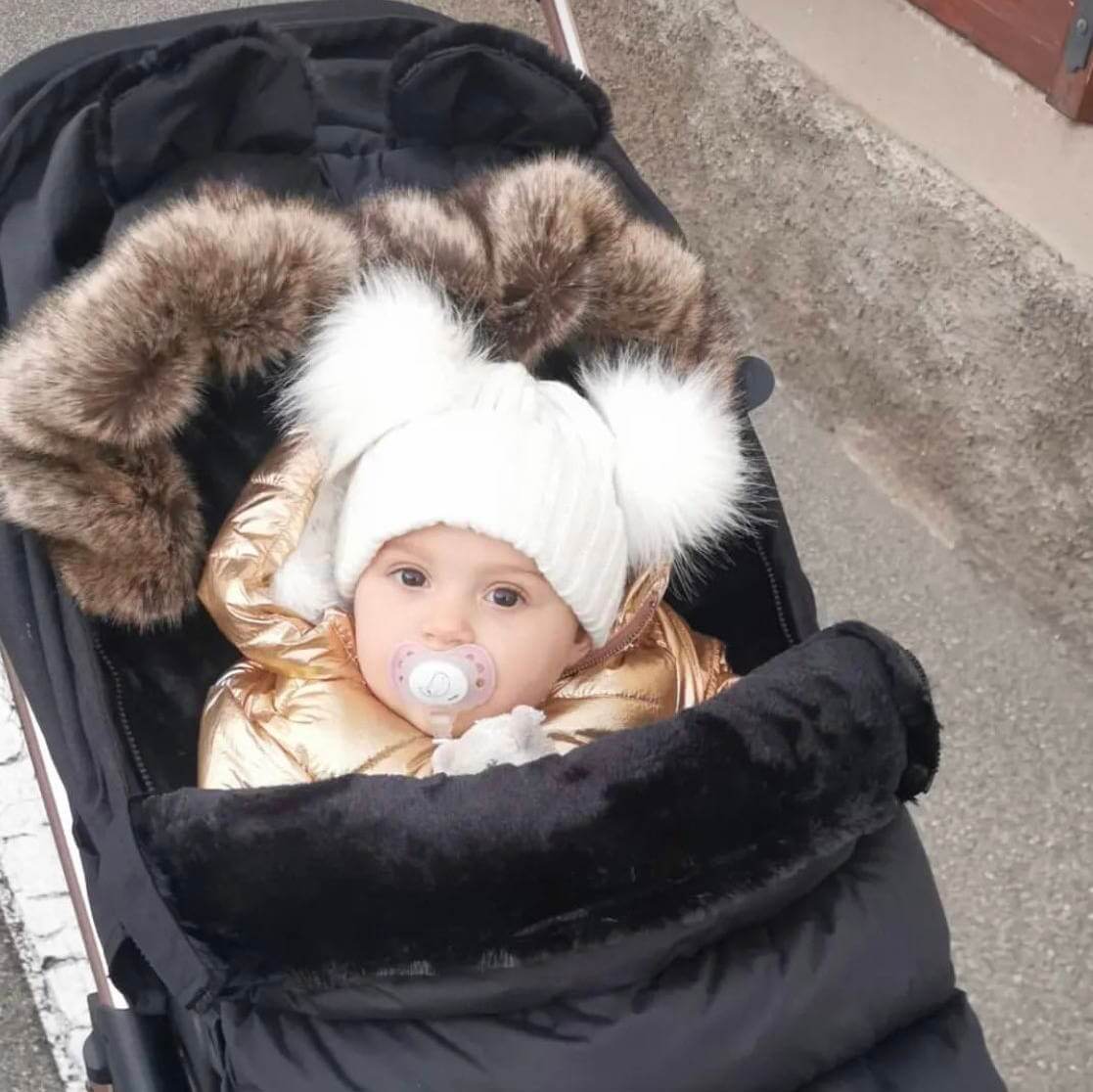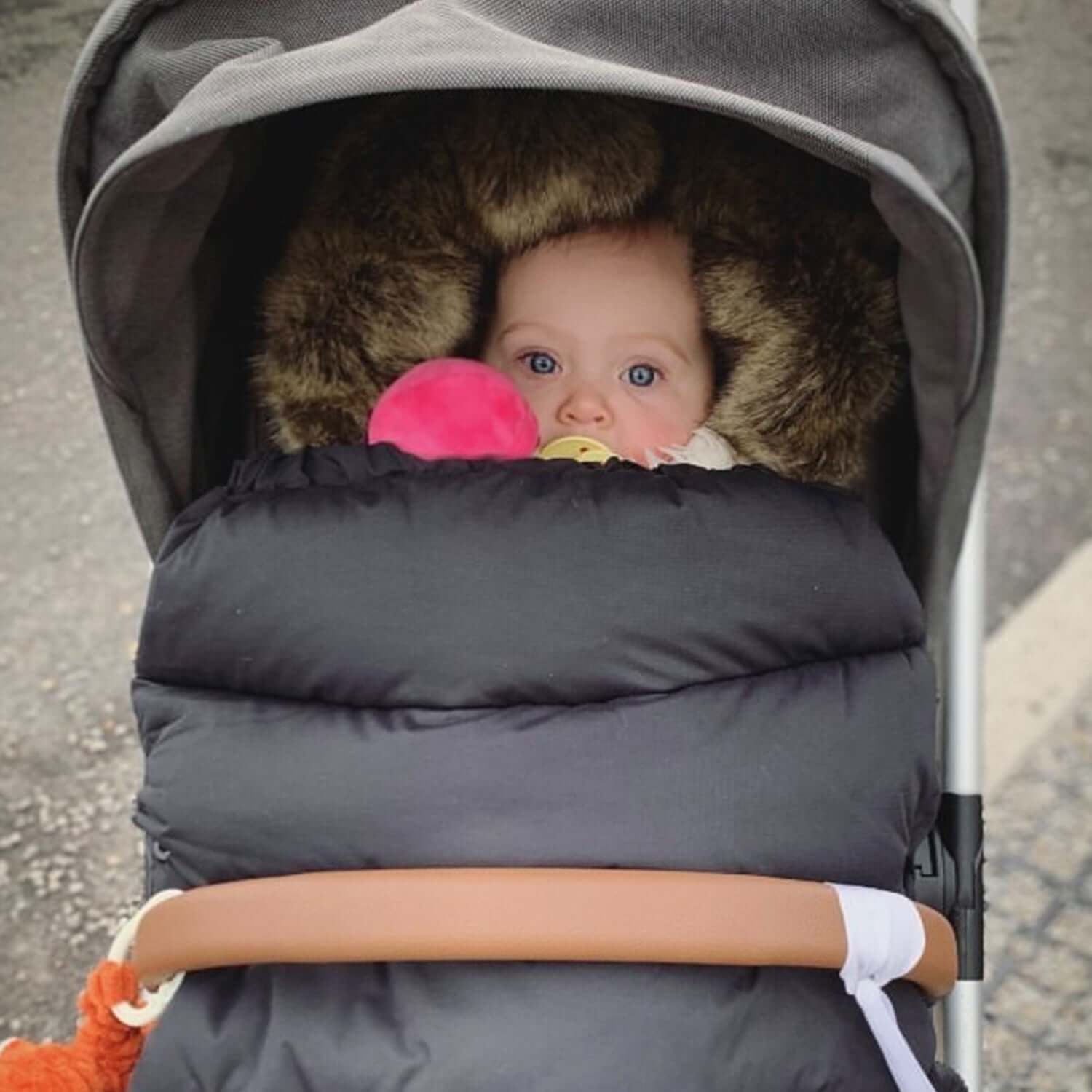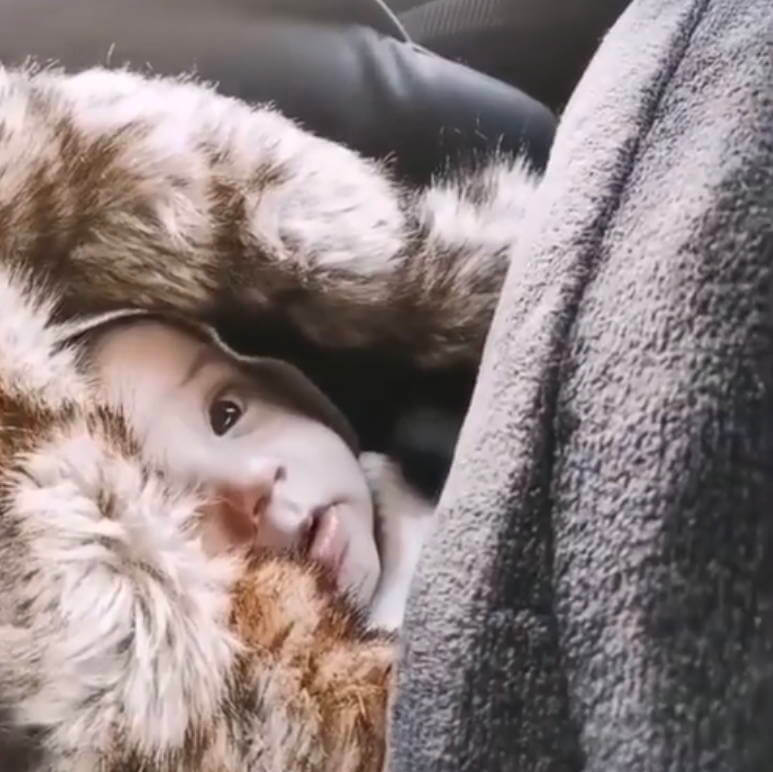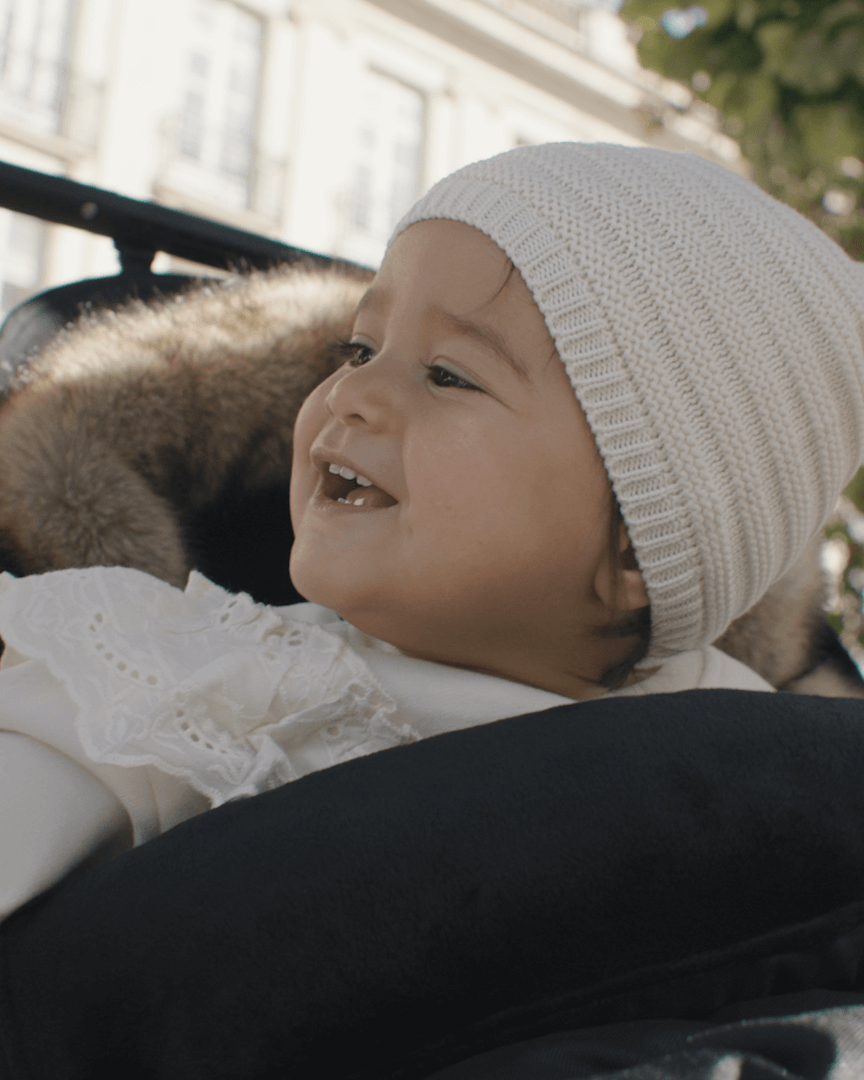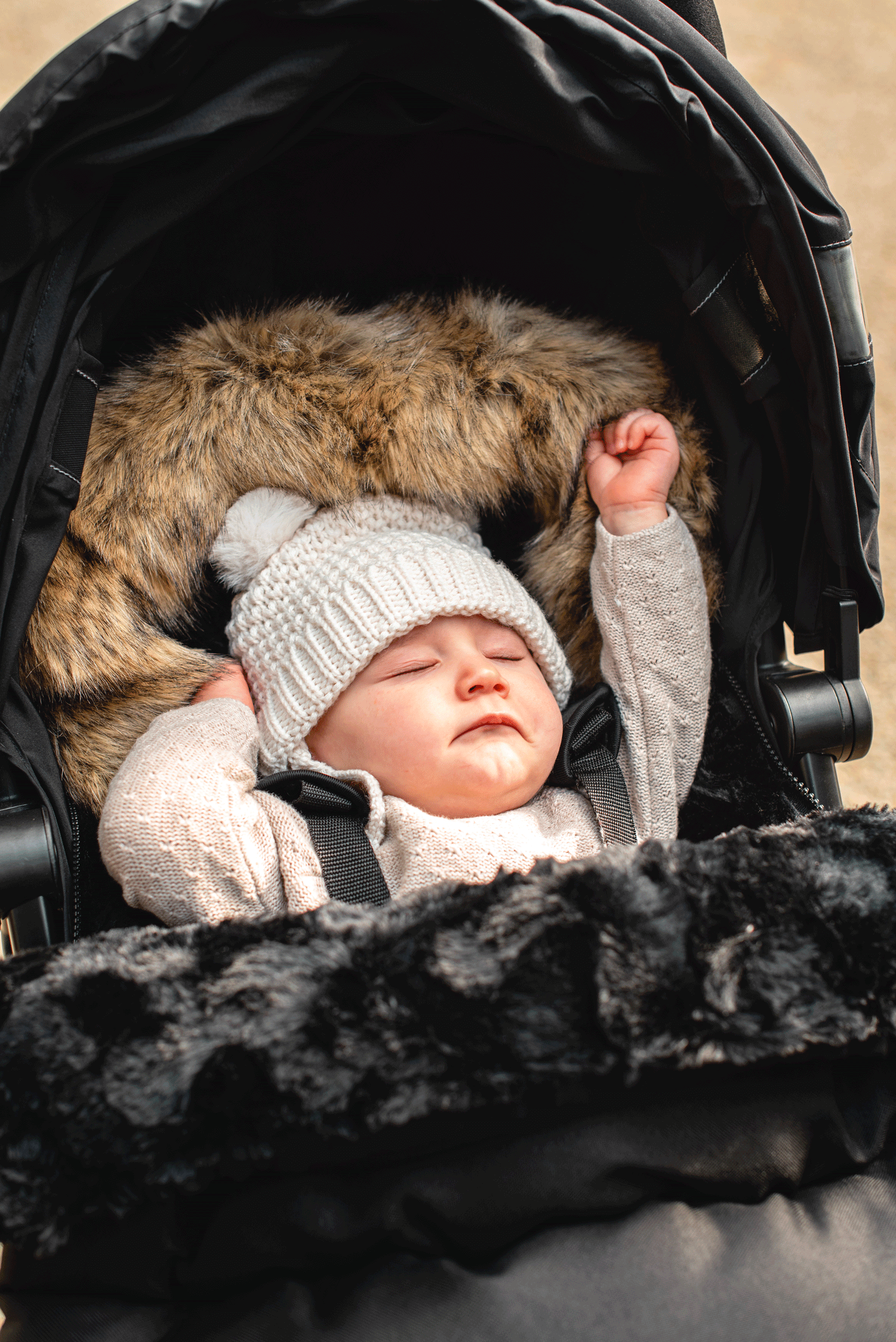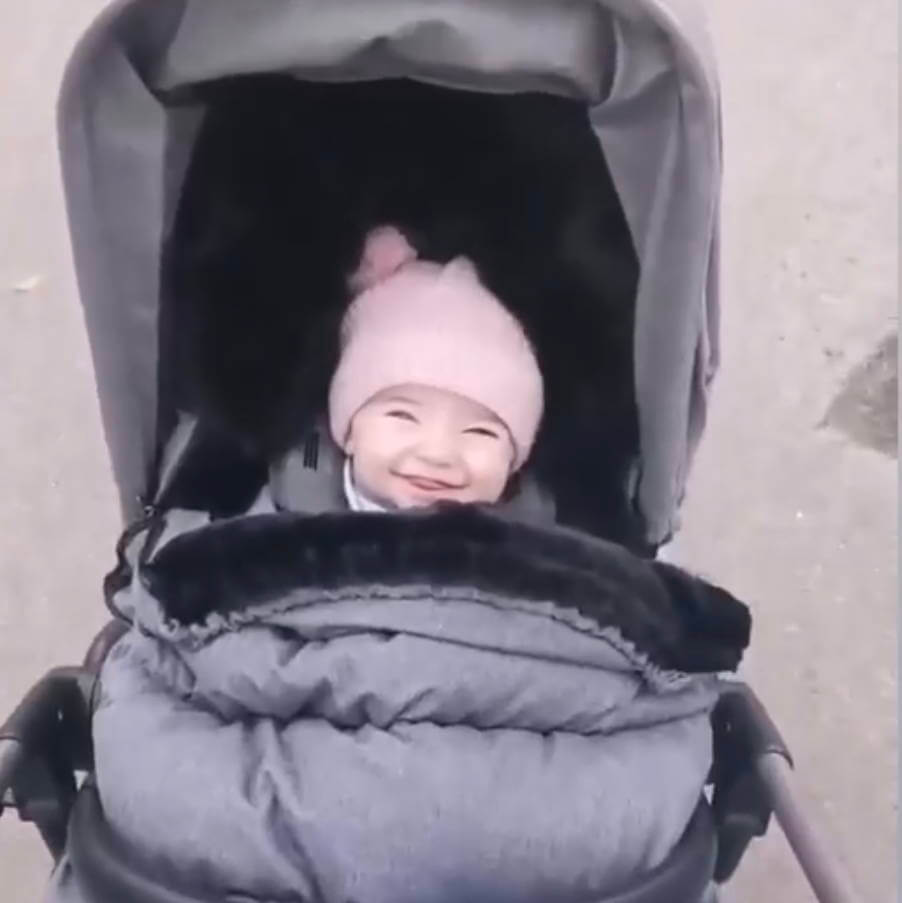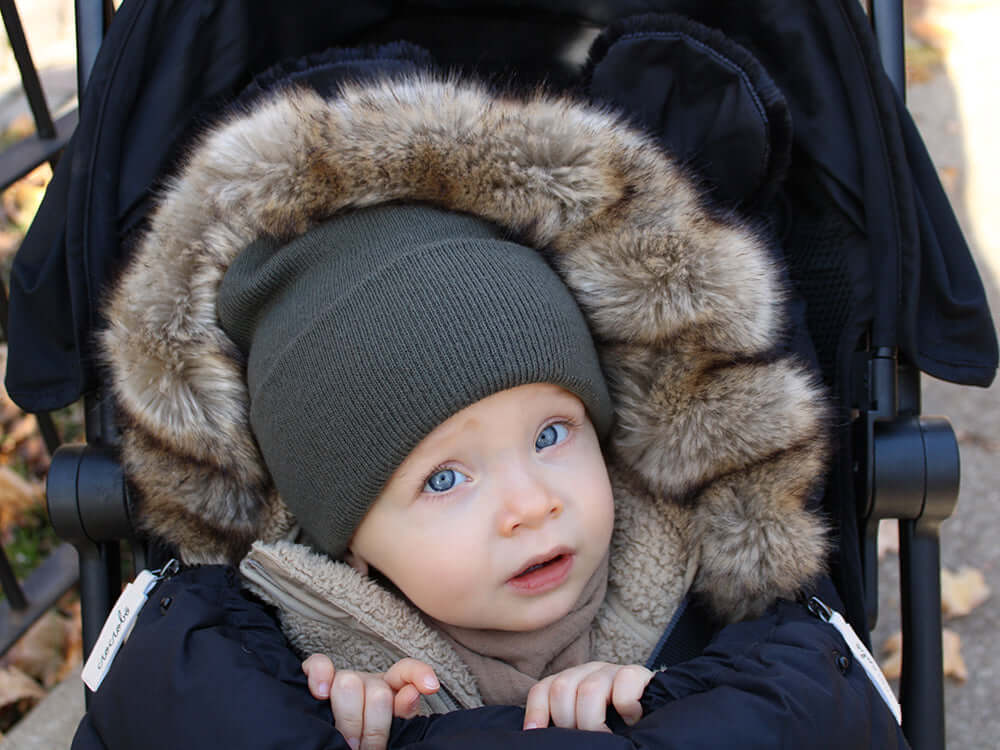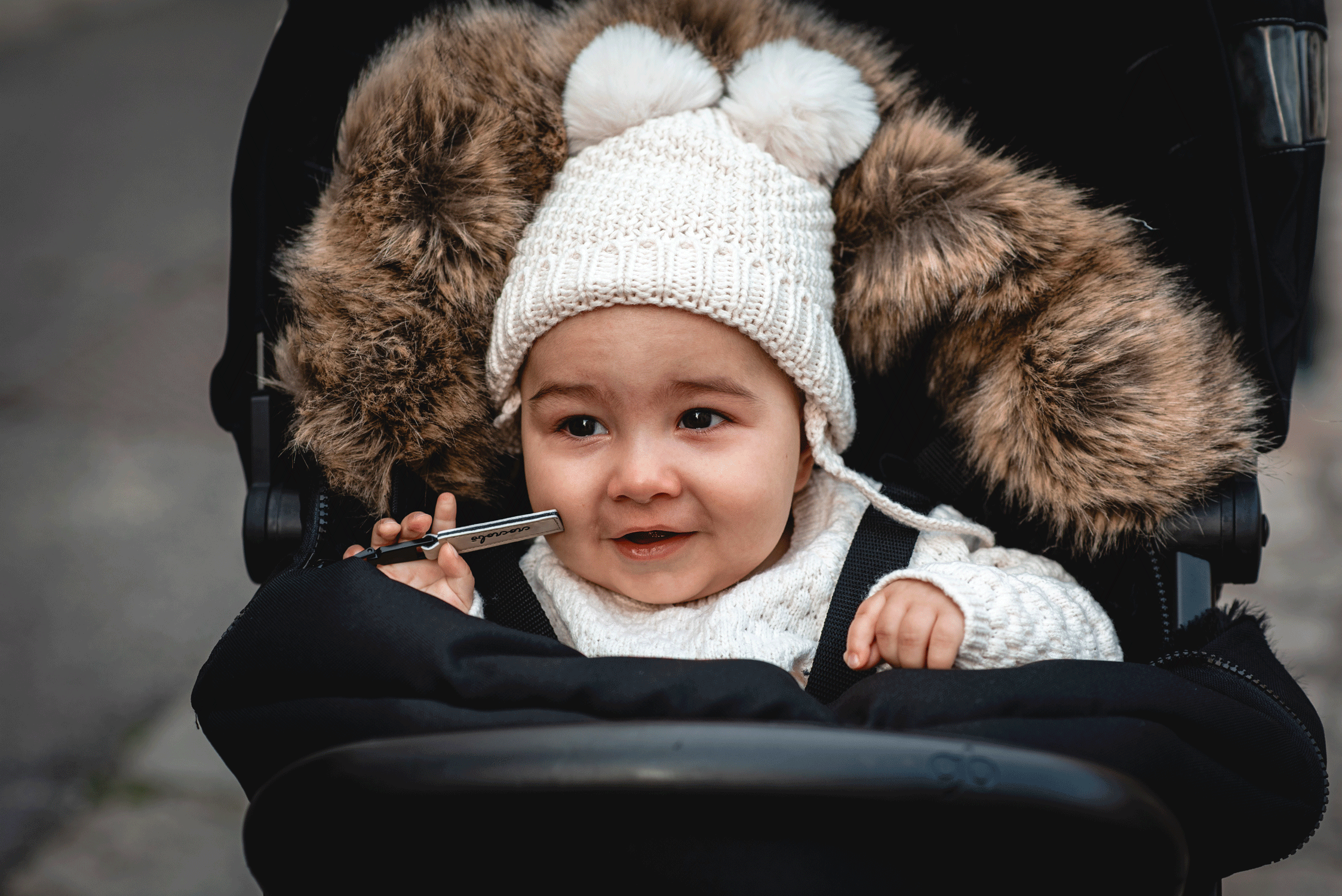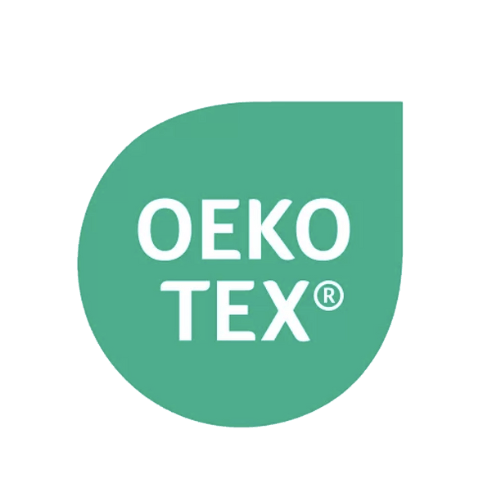 ENVIRONMENTALLY FRIENDLY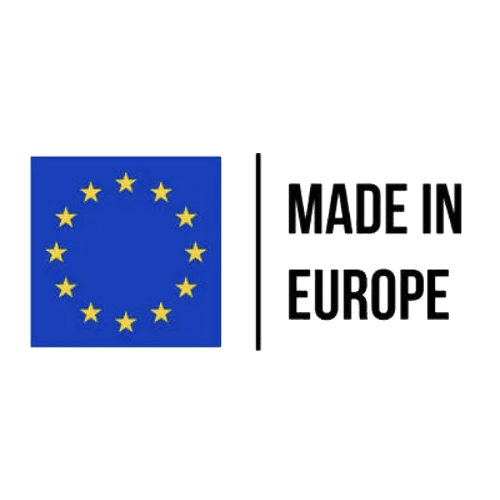 MADE IN EUROPE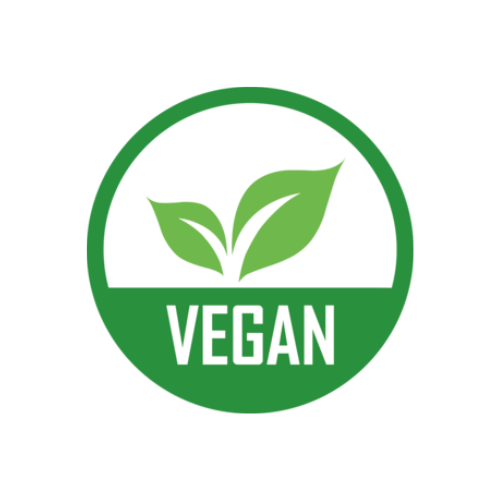 VEGAN
YOUR FREQUENTLY ASKED QUESTIONS

About
The Inaya Footmuff stands out elegantly from other options available on the market with its unique combination of style, functionality and attention to detail.

Designed with painstaking attention to meet the specific needs of modern parents, Inaya offers exceptional versatility by adapting to various strollers and growing with your child. Its ultra-soft fur interior and its ability to resist cold down to -20°C guarantee optimal comfort even in freezing weather.

In addition, the Oeko-Tex© certified materials used in its manufacture ensure the safety of your baby while respecting the environment. The Inaya Footmuff embodies the perfect combination of premium quality, fashionable design and practicality, making it a go-to choice for parents who care about comfort and style when out and about with baby.
Here are the unique features of Chancellor Inaya that make her so special:

Ultra-soft fur interior offering enveloping warmth.
Cold-resistant design down to -20°C for optimal protection in winter weather.
Waterproof materials for all season use and wind resistance.
Breathability to prevent moisture buildup and keep your child comfortable.
Removable fur collar for adaptation to different weather conditions.
Two-way zips allowing opening from the bottom, facilitating access and ventilation.
Vegan certification, demonstrating a commitment to sustainability and animal respect.
Manufactured in Europe, guaranteeing high standards of quality and safety.
Exceptional adaptability, suitable from birth up to 3 years of your child.
An unequaled ally for family outings, bringing together comfort, functionality and ethics at the heart of every adventure.
The Inaya footmuff is a universal model designed to adapt to all strollers and prams on the market: Bébé Confort, Chicco, Cybex, Quinny, Stokke, GB, Bugaboo, Britax Römer, etc...

You have openings at the back of the footmuff to pass the stroller straps and 2 openings between the legs for the strap depending on the age of the child.

We have developed a specific model for the Yoyo stroller.
The footmuff is smaller in length and width to fit on a Yoyo stroller or compact travel stroller.
The Inaya footmuff is not suitable for the cozy for security reasons. However, it can be adapted to prams.
Use and Comfort
The footmuff is universal and designed for 3 and 5 point strollers.

You have openings at the back of the footmuff to pass the stroller straps and 2 openings between the legs for the strap depending on the age of the child.

It also has a hood to attach the top of the footmuff to your pushchair to prevent it from sliding down.

The footmuff therefore adapts to all strollers on the market and can be installed in less than a minute!
You can start using the Inaya Footmuff as soon as your child is born. Designed to meet the needs of toddlers, it provides a warm and comfortable environment for newborns while providing optimal protection against cold temperatures. Thanks to its versatile design and adjustable features, the Inaya footmuff grows with your child, providing them with a cozy cocoon up to the age of 3. So you can enjoy pleasant family walks from the first moments of your baby's life.
The Inaya footmuff is cold-resistant down to -20°C thanks to its interior padding. It is also waterproof and resists humidity.
The Inaya footmuff is designed to be used all year round, providing optimal protection and comfort for your child whatever the weather. It is ideal for cool autumn and winter days, offering enveloping warmth thanks to its ultra-soft fur interior and its resistance to cold down to -20°C.

In addition, its breathable design ensures your baby's well-being even on milder days. In short, whether during the coldest months or for outings in milder weather, the Inaya footmuff is your ally for walks in all seasons, guaranteeing your child exceptional comfort in all circumstances.
Maintenance and Safety
The Inaya footmuff is washable by hand or in the dry cleaners (after removing the faux fur collar). It is not suitable for the dryer.

You can also use a dishcloth to simply scrub the outer coating.
Rather than having a blanket that's likely to slip off – or, worse, get on baby's face – opt for a footmuff that has openings for the harness straps to pass through. You install baby, you tie him and only then you close the footmuff. This is essential to comply with the safety instructions.
It all depends of course on the weather outside. When you go to a shopping center for example, keep the thick footmuff which will protect your child from your journey from the car to the interior of the center. Then, once inside, open the footmuff, remove the baby's hat and fleece if it's really hot.

You can also slip baby directly inside without a coat if the weather permits. The footmuff will act as a coat and it will be protected from the wind.
Unlike the baby nest that you can use at home or on the go, for the footmuff it is recommended to use it only outdoors. Indeed, its material is too hot, baby may overheat inside.
Materials and Origin
The collar is made of synthetic fur and is completely removable to allow you to wash the footmuff. Our footmuff is completely vegan.
The Inaya footmuff is the result of a careful selection of high quality materials, all sourced mainly in Europe. Every element, from the ultra-soft synthetic fur to the waterproof fabric and the zips, is carefully chosen to meet the highest standards.

Plus, all materials used in the Inaya Footmuff are Oeko-Tex© certified, ensuring they meet strict safety and eco-friendly standards, for complete peace of mind for you and your baby.
The Inaya footmuffs are the result of a meticulously orchestrated manufacturing process. All the elements needed to create each footmuff are carefully delivered to our factory in Poland, where they are assembled with the utmost care. Each manufacturing step is overseen with meticulous attention to ensure that each Inaya Footmuff meets our high quality standards, every step of the way.
Absolutely, we are deeply committed to the preservation of the environment and the well-being of your baby. This is why all the materials used in the Inaya footmuff are Oeko-Tex© certified.

This rigorous certification guarantees that our materials meet strict environmental and safety standards. Choosing Oeko-Tex© materials for the Inaya Footmuff is a deliberate choice to protect your baby's sensitive skin while reducing our impact on the environment. So you can be sure that every walk with Footmuff Inaya is synonymous with comfort, safety and respect for the planet.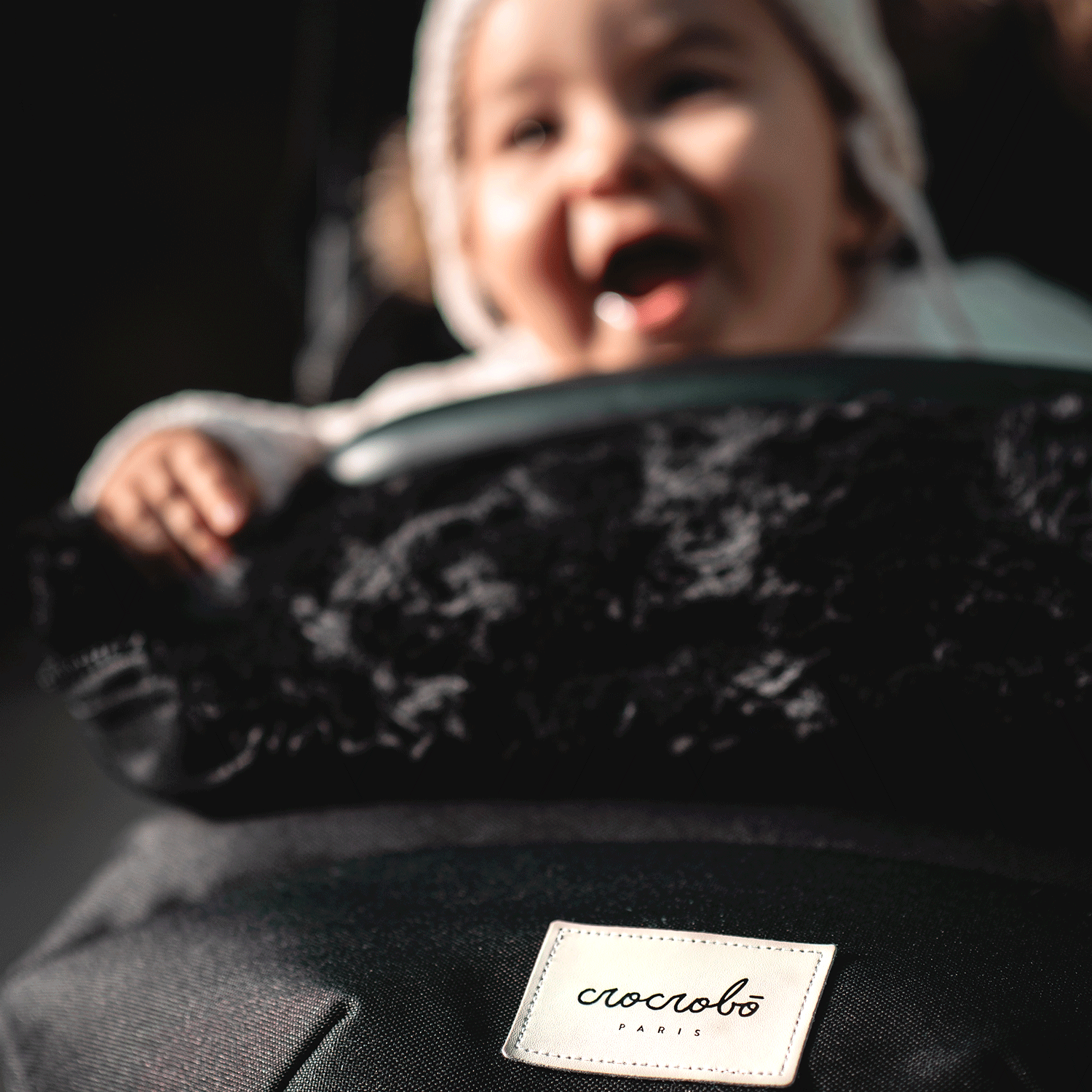 Still questions?
Contact our Crocrobō customer service
Do not hesitate to consult our FAQ online or contact us on WhatsApp or on the chat if you have any questions!